Smart Managing: Hiring, Coaching, & Evaluating Sales People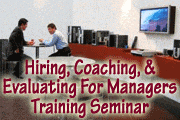 Seminar: ID# 1003055
Pricing:
$2,740.00

Early Bird: $2,440.00
About This Course:
Are you really seeing the person you'll be working with down the road, or merely someone on their best behavior?
Learning Objectives
Hiring the right employee is always a challenge, as the interview time is when people usually put their best foot forward.
Our hands-on seminar will teach you the right way to interview prospects, the right way to hire your employees, and the right way to coach your employees.
Prior to the course, each manager completes a self-assessment questionnaire - a personal report to improve effectiveness. Job functions such as interviewing, coaching, evaluating, cost control, forecasting, and goal setting are incorporated into the course. Attendees learn and apply methods of hiring, coaching, and evaluating. The managers learn from one another in interactive workshops. Throughout the course instructors provide personal feedback. During the feedback, candidates discuss their impressions of each manager. The course is a proactive learning experience designed to help managers be more effective.
The Course Structure
The seminar combines theory, practice, and personal feedback through our unique scenario-based methods.
Job functions such as interviewing, coaching, evaluating, cost control, forecasting, and goal setting are all incorporated into the course, which gives you "hands-on" training simulations to improve your skills.
Essentially, attendees are put in teams where they take turns acting as manager. Each manager hires, coaches, and evaluates three people, and learn from one another and from the instructor's critiques while viewing videos in the workshops.
The instructors provide feedback on coaching, and the job candidates that were interviewed candidly discuss what they thought about each manager and how each manager made them feel during the interview.
Agenda
The class time is divided as follows:
Theory 10.15 hours
Interactive Workgroups 9.00 hours
Personal Feedback 3.00 hours
First Day
1:00 - 2:00 Introduction
2:00 - 4:00 Customer Buying Styles - Method and Recognition
4:00 - 4:15 Break
4:15 - 5:00 Evaluation Basics
5:00 - 5:30 Preparing for the Evaluation
5:30 - 7:00 Presenting the Evaluation
Second Day
8:00 - 9:30 Managing Today
9:30 - 10:00 Introduction to Coaching
10:00 - 10:15 Break
10:15 - 11:30 Coaching and Ranking - The Method
11:30 - 12:00 Coaching Workshop
12:00 - 1:00 Lunch
1:00 - 1:45 Call Simulation
1:45 - 3:00 Coaching (Video Recorded)
3:00 - 3:15 Break
3:15 - 4:00 Coaching - Discussion
4:00 - 4:30 Insights to Success
4:30 - 5:00 The Legal Interview
5:00 - 6:00 Hiring Success Plan
Third Day
7:30 - 8:30 Preparation for First Applicant Interview
8:30 - 10:00 First Applicant Interview and Review
10:00 - 10:30 Preparation for Second Applicant Interview
10:30 - 12:45 Second Applicant Interview (Video Recorded)
12:45 - 1:30 Lunch and Interview Workshop
1:00 - 3:00 Review of Applicant Interviews
3:00 - 3:15 Course Summary
Times and Dates
This three-day seminar is held on the dates and times posted herein.