Mortgage Certification Programs
Earn A Professional Mortgage Certification!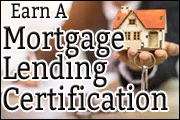 Get A Certification For Processing, Underwriting, Or Commercial Lending
Considering the pursuit of a mortgage designation, such as the 'Certified Loan Processor' or a 'Certifed Mortgage Underwriter', to accelerate your career in the mortgage industry? We have them!
Mortgage certifications are an important step to increasing your knowledge and forwarding your career.
Our Best-Selling Mortgage Certification Programs
Following is a list of our best-selling mortgage certifications that can help improve your performance and income!
Find Seminars, Webinars, And Online Training In Your Area
Why A Mortgage Certification Program? Why Are Mortgage Certifications Important?
Importantly, getting "Mortgage Certified" has become increasingly valuable to mortgage professionals. Not only do mortgage certification programs offer mortgage professionals a chance to acquire essential skills, they award important designations that can advance your career, including:
Increased knowledge, skills, and competency
Improves your understanding of how to apply various mortgage rules and regulations
Enables you to stay up-to-date on the changes in mortgage regulations, policies, and procedures that impact your job function
Exemplifies your commitment to your career in the mortgage industry
Differentiation
Added credibility and validity
Perception as 'more valuable' to your organization
Career advancement
Resume enhancer
Makes you a more attractive candidate to prospective employers
Individuals who hold certifications can earn up to 15-percent higher remuneration than the market average