Commercial Mortgage Broker Training
Best-Selling Training Courses:
Online Training Courses
Instructor-Led: Webinars
Become A Commercial Mortgage Broker!
What Does A Commercial Mortgage Broker Do?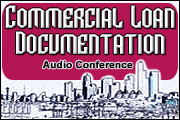 Similar to how Real Estate Agents sell homes, a Commercial Mortgage Broker sells commercial properties. Commercial mortgages on buildings, malls, and other properties, however, typically are for higher dollar amounts, are valued on the property's projected income and, as a percentage of the loan, require more of a down payment or collateral.
Commercial Real Estate Loan Brokers typically work with several types of loans, including bridge, construction, and the typical fixed-rate loan.
And like the residential loan process, Commercial Real Estate Loan Brokers work with their team to generate and evaluate loan applications and work with the mortgage underwriter to evaluate and get the loan approved.
Commercial and industrial lenders both know that non-financial factors such as the borrower's industry, its competitive market, and its management team play a key role in the ongoing success of the business, as well as timely loan repayment.
About Our Commercial Loan Broker Training Courses
By taking one of our commercial mortgage broker loan training courses, you will learn about the entire loan process by which a commercial real estate loan is marketed, underwritten, approved, documented, closed, and monitored.
You also will learn about the various documents typically found in a commercial loan transaction - and their legal impact on the relationship between the bank and its borrowers and guarantors.
Learning Objectives: Commercial Mortgage Broker Loan Training Courses
What areas of the law impact commercial lending?
What are the fundamental documents in a commercial loan transaction?
What is the difference between term sheets and commitment letters?
What documents are unique to real estate lending?
Learn what specific information will help you to handle business applications correctly
What factors determine if the application is for business purpose or consumer purpose?
Which documents are used in asset based financing?
How are letters of credit documented?
What are loan participation agreements?
What are mortgage spreaders? Mortgage assumptions? Future advances?
What is construction risk and how is it mitigated?
Differences between residential and commercial construction loans
Title insurance
Survey
Bonding
Funding and draw controls
Cash flow or net operating income (NOI) concepts
Understanding key variables: vacancy, management fees and replacement reserves
The missing link: Using NOI along with a cap rate to estimate current property value
Moving from NOI to cash flow available for debt service (CFADS) and DSC
Stress-testing of debt service coverage (DSC) and loan-to-value (LTV) at transaction level
How to use a sample worksheet to explore the major issues, including stress-testing, demonstrated with a case example
How can we minimize mistakes in loan documentation?
Common compliance violations in the commercial loan area
Find Commercial Loan Broker Training Courses
To find Commercial Loan Broker training courses either select one of the recommended courses or "Commercial Real Estate" from the "Professional Development" section of the search box below.
Best-Selling Training Courses:
Online Training Courses
Instructor-Led: Webinars
Top FAQs
What is a Commercial Mortgage?
Commercial mortgage loans are used to for commercial purposes such as commercial properties, warehouses, strip centers, and multi-family houses (four or more residences).
What does a Commercial Mortgage Broker do?

Mortgage Brokers typically help the purchaser negoiate a loan with lending institutions.
What are the advantages of a Commercial Mortgage loan?

Commercial loans typically have lower terms and lower interest rates than residential loans. Purchasers expect to make money long-term via both rent and capital gains.
What are the disadvantages of a Commercial Mortgage loan?

Potential risk of default, especially if not enough renters, economic downturn, etc. More qualification paperwork and requirements.
How much does a Commercial Mortgage Broker earn?

Commercial Mortgage Brokers typically earn between $100 and $150,000 annually.
Find Seminars, Webinars, And Online Training In Your Area