Reverse Mortgage Training
Best-Selling Training Courses:
Instructor-Led: Webinars
Reverse Mortgage Training
Many mortgage people enjoy the reverse mortgages more than the forward mortgages. Reverse mortgages are for people over the age of 62 so this can be an entirely different kind of market niche for you.

Reverse mortgage training is the way to begin learning about this valuable niche. You'll learn the things that really matter about these special loans, like:
Minimum age required

Credit is not relevant

Income is not relevant

No repayment required until death
With the reverse mortgage training you'll find on The Mortgage Training Center, you'll have the essential knowledge you need to master this rich niche.

Reverse Mortgage Broker Training

Reverse mortgage broker training is the same as reverse mortgage training for loan officers.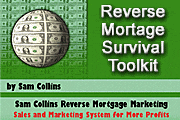 As a reverse mortgage broker, training your loan officers should be the very first thing you look to do. With the reverse mortgage training located here, you have access to all the tools you need to have your staff ready to work this niche.

At The Mortgage Training Center, we offer online training, self-study training (including seminar reverse mortgages), and webcasts.

To search for reverse mortgage training or reverse mortgage broker training, you can choose one of our recommended courses here or you can choose "reverse mortgage" and your resident state from the "Professional Development" section of the search box below.

Best-Selling Training Courses:
Instructor-Led: Webinars
Find Seminars, Webinars, And Online Training In Your Area
Share on Facebook
Share on Twitter
TheMortgageTrainingCenter.com. 5755 North Point Parkway, Suite 227 | Alpharetta, GA 30022 | 770-410-1219 | support@TheMortgageTrainingCenter.com
Copyright TheMortgageTrainingCenter.com 2018 | Web Site Development by OTAU