TRID, TILA, And UDAAP Training Courses
TRID, TILA, And UDAAP Training Courses
There are several governmental rules and regulations covering mortgage loans. Some of these include Regulation Z, which implements the regulations behind the Truth in Lending Act (TILA) and Unfair Deceptive or Abusive Acts and Practices (UDAAP).
What Is TRID?
Short for TILA-RESPA Integrated Disclosures, TRID is a series of guidelines that attempt to close some of the loopholes that lenders have used in the past to trick consumers. TRID rules dictate what information mortgage lenders need to provide to borrowers and when they must provide it. TRID rules also regulate what fees lenders can charge and how these fees can change as the mortgage matures.
The program intends to help borrowers better understand their mortgage options and more effectively choose a mortgage lender that has their best interests in mind.
How Does TRID Affect Mortgages?
As the borrower, TRID regulations protect you against high-pressure or unfair sales tactics and they ensure that you know exactly what you're signing on for when you agree to a loan. However, TRID also introduces a new layer of responsibilities that you need to uphold just like your lender must remain fair and transparent.
What Is TILA?
The federal Truth-in-Lending Act (TILA) is a law requiring that a lender disclose the terms of a mortgage in writing. TILA is designed to protect consumers and ensure clear disclosure of the key terms of the loan (such as APR and total borrower costs), as well as any other costs or fees involved.The rules are designed to make it easier for consumers to comparison shop when they want to take out a mortgage and safeguard them from misleading or unfair practices on the part of lenders.
How Does TILA Affect Mortgages?
TILA aims to ensure that you receive a clear and understandable layout of certain costs and terms. TILA also allows you to easily compare financing costs among different products because it requires lenders to lay out certain terms in a uniform way.For loans, it can be included in your contract. If your creditor fails to provide you with these disclosures, they can be held liable for any financial harm you may suffer as a result.
What Is UDAAP?
UDAAP is an acronym referring to unfair, deceptive, or abusive acts or practices by those who offer financial products or services to consumers. Under the Dodd-Frank Act, it is unlawful for any provider of consumer financial products or services or a service provider to engage in any unfair, deceptive or abusive act or practice.
Like fair lending problems, UDAAP issues can result in a downgrading of your organization's rating and monetary penalties as well as negatively impact the financial institution's strategic plan. All lenders should make sure they are up to date on UDAAP principals to help minimize your risk of UDAAP and ensure compliancy for your institution, as well as the vendors who provide, manage or service your consumer products.
Recommended TRID, TILA, And UDAAP Training Courses
For TRID:For TILA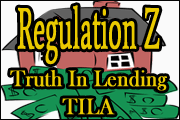 For UDAAP
Find Other TRID, TILA, And UDAAP Training Courses
Either use the search box below or call us at 770-410-7569 with questions or if you need assistance ordering any of our TRID, TILA, or UDAAP training courses.
Find Seminars, Webinars, And Online Training In Your Area
About Our TRID, TILA, And UDAAP Training Courses
The Mortgage Training Center offers several TRID, TILA, and UDAAP training courses that help mortgage professionals to better understand and comply with their requirements. Our training courses cover:
Truth in Lending Act
Coverages and Exemptions
Finance Charges
TILA Disclosures
Open-End Credit Requirements
Closed-End Credit Requirements
The Loan Estimate Form
Loan Estimate Timelines
The Closing Disclosure Form
Disclosure Form timelines
Good Faith
Revised Disclosures
Construction Loan Provisions
Escrow Closing & Partial Payment Notices
TRID and Trusts
Simultaneous Subordinate Lien Loans
Total Payment Tolerances
Calculating Cash to Close
How to complete the loan estimate and closing disclosure
TILA servicing requirements
How to avoid behavior that could be construed as discrimination or poor customer service