Mortgage Underwriter Training And Certification Courses
Best-Selling Training Courses:
Online Training Courses
How To Become A Mortgage Loan Underwriter With Our Mortgage Underwriter Training Courses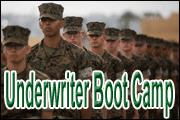 What Is A Mortgage Underwriter - And What Do They Do?
An underwriter is a financial professional who reviews the finances of loan applicants to assess how much risk a lender will take on if they decide to give you a loan. In other words, the underwriter's job is to asses the risk of loan re-payment.
Individuals interested in becoming a mortgage / loan underwriter should be aware that there are several types on underwriting specialties, so you should make sure to get training for the area that most interests you.
For Residential Loans
The most-common loan underwriter areas include underwriting mortgage loans for residential loans such as Conventional, FHA, and VA loans, as well as government load programs such as Direct Endorsement (DE) and LAPP/SAR.
For Commercial Loans
Commercial loans vary from residential loans in a number of ways, including structure, how they are valued, and how they are regulated, serviced, and reported.
What Is Mortgage Underwriting?
Underwriting is the mortgage lender's process of assessing the risk of lending money to an applicant. This involves reviewing the applicant's income and expenses, investments, credit history, and other factors. This process includes a review of the applicant's:
Job / Income / W-2 forms
Expenses
Credit Report / Credit Score
Bank statements
Tax returns
Property Appraisal
Maximum loan-to-value (LTV) ratio
Maximum debt-to-income (DTI) ratio
Genesis of funds
Financial reserves
If collateral is needed
If the loan is approved, the underwriter then makes sure all the required documents are complete and accurate so the loan can be "closed".
Things To Tell Potential Clients
Below are a couple of things that can improve an applicant's chances of getting a loan:
Show consistent employment - don't switch jobs!
Don't do anything that could lower a credit score - such as opening new charge cards or making large purchases
Pay off debts - and don't do anything that will increase debts
Recommended Training Courses For How To Become An Underwriter
To find mortgage underwriter training courses, either select one of the recommended courses or select "Underwriting" from the "Professional Development" section of the search box below.
Best-Selling Training Courses:
Online Training Courses
Find Seminars, Webinars, And Online Training In Your Area
Recommendations For Taking Your Mortgage Underwriting Courses
Option 1: Start With A Basic Mortgage Underwriter Training Course
Mortgage loan underwriting is a complex process. A mortgage underwriter must analyze a potential borrower's income, assets, liabilities, and other factors to determine if the potential borrower not only meets the requirements for a mortgage, but has a low risk of re-paying the loan. Our mortgage underwriter training courses will help you learn to access risk and ensure a potential borrower meets all of their requirements for a loan.


Option 2: Earn A Mortgage Underwriter Certification!
You can earn a mortgage underwriter certification by completing the "Certified Mortgage Underwriter" course and passing the affiliated exam. This course covers:



Basic and advanced mortgage underwriting issues
Training for Conventional, FHA, and VA underwriting
An overview of TILA, RESPA, Red Flag, and other Fair Lending laws
Details on due diligence
How to analyze appraisals and tax returns
Steps for calculating Income, DTI, And LTV