Quality Control Training
Best-Selling Training Courses:
Online Training Courses
The Requirements For Quality Control
According to Freddie Mac, the purpose of a Quality Control Program is to monitor and evaluate the integrity of the origination process, and to provide feedback about loan originations.
Additionally, the Department of Housing and Urban Development (HUD) outlines its Quality Control Plan requirements in Chapter 7 of the 4060.1 Handbook. It states, "All FHA approved mortgagees, including loan correspondents, must implement and continuously have in place a Quality Control Plan for the origination and/or servicing of insured mortgages as a condition of receiving and maintaining FHA approval."
HUD further states that all FHA approved lenders must not only have a Quality Control (QC) Plan in place to review loans that are originated or underwritten, but they must provide a copy of the plan when applying for mortgage approval.
Each lender's QC Plan must meet specific requirements and provide details, including: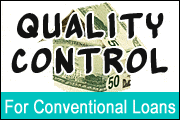 The QC Plan must be in writing
The QC function must be independent of the lender's originating and servicing functions
Reviews must be within 90 days from the end of the month that the loan closed
Reviews must be conducted at least monthly for lenders closing more than 15 loans per month
The sample size of loans reviewed must be 10% of loans or a statistical random sampling that provides a 95% confidence level with a 2% precision for lenders that originate more than 3,500 FHA loans per year
In addition to these requirements, quality control reviews must also address lenders use of Third Party Originators. At least 10% of loans originated and sold to them by their TPOs must be given a QC review. If there are less than 10 loans, at least one of them should be QC reviewed. All early payment defaults (loans that go into default within 6 months) must be reviewed within 45 days from the end of the month that the loan is reported as 60 days past due.
Review results must be documented, the methodology used to target must be in writing, and any corrective actions taken as a result of the review findings must be included.
About Our Quality Control Training Courses
With our Quality Control Plan training courses, you will receive a step-by-step quality control audit process that is easy to follow. You'll receive information on:
Random/Audit Selection Process

Detailed Audit Procedures

Policy for Discovery

Training Resources

VA Quality Control Plan

Customized to FNMA/FHLMC/Private Investor

Warehouse Bank

Review Forms, Letters, Reports, and Requests

Pre-Funding And Pre-Closing Quality Control Checklists

State Compliance Audit Preparation Process

Federal Regulatory Compliance Guidelines (RESPA, TIL, ECOA, etc.)

Predatory Lending, Ethics and Fraud Policy

Complaint Resolution Policy

Branch Licensing Policy

Benefits
You also receive customizable forms!
Find Quality Control Training Courses
To find Quality Control Plan training courses, simply select one of the Recommended Courses below or click "Quality Control" and your state from the "Professional Development" section of the search box below.
Best-Selling Training Courses:
Online Training Courses
Find Seminars, Webinars, And Online Training In Your Area