VA Loan Training
Need Training For Providing VA Loans?
Get your VA training through the Mortgage Training Center!

The VA - short for the Veteran's Administration - provides mortgage loans made through VA approved lenders. The properties these loans service are single family and multi-family homes, as well as manufactured homes and hospitals.

VA guaranteed loans are made by private lenders, such as banks, savings & loans, or mortgage companies to eligible veterans for the purchase of a home, which must be for their own personal occupancy. The guaranty means the lender is protected against loss if you or a later owner fails to repay the loan. These loans can be obtained with no money down for military veterans.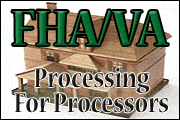 Find VA Training Products & Services

With the increase in VA loan possibilities, VA loan processing is a vital piece in getting your loans to the closing table - but you'll need to know how to market and process this type of loan.

The Mortgage Training Center is your home for all types of VA training, including VA underwriting training, VA reverse mortgage training, and training for VA loan processing.

VA training comes in webinars, classes, and manuals that can get you up to speed on the fastest growing segment of VA lending.
Find VA Loan Training Courses
Here are a few of the things you will learn from taking our VA training courses:
Basic Compliance
Required Disclosures
Maximum mortgage amount
Down payment requirements
Appraisal Requirements
VA Guidelines For Occupancy, Ratios, Employment, Eligibile Borrowers
Elements critical to the loan process
How to process a VA mortgage
To find training to meet your VA training needs, either choose a recommended course below, or select "VA" and your state from the "Professional Development" section of the search box below.
Recommended Training Courses:
Online Training Courses
Find Seminars, Webinars, And Online Training In Your Area
Share on Facebook
Share on Twitter
TheMortgageTrainingCenter.com. 5755 North Point Parkway, Suite 227 | Alpharetta, GA 30022 | 770-410-1219 | support@TheMortgageTrainingCenter.com
Copyright TheMortgageTrainingCenter.com 2018 | Web Site Development by OTAU