Understanding Financial Statements
Seminar: ID# 1270255
If you're a business professional who could benefit from a more thorough grasp of financial statements, this course is tailor-made for you!

This course is designed to give business owners, managers, and other non-financial professionals an arsenal of tools for understanding, analyzing, and interpreting financial statements.

This training session is available in both in-person and video conference formats. Same great training; you simply decide which format best fits your needs!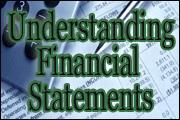 Upcoming Seminars:
Order:
Understanding Financial Statements
Pricing:
$299.00
Metropolitan Area:
Yuba City-ONLINE
Venue:
Live Online Seminar
9am-4pm PDT; 10am-5pm MDT
Yuba City-ONLINE
770-410-1219
Date:
7/16/2020 (9:00 - 4:00pm local time)
Qty:
TheMortgageTrainingCenter.com. 5755 North Point Parkway, Suite 227 | Alpharetta, GA 30022 | 770-410-1219 | support@TheMortgageTrainingCenter.com
Copyright TheMortgageTrainingCenter.com 2018 | Web Site Development by OTAU