Connecticut SAFE / Mortgage Licensing
Best-Selling Training Courses:
Instructor-Led: Webinars
Online Training Courses
How To Become A Mortgage Broker: Connecticut Mortgage Licensing Requirements
Do You Need To Have A License To Be A Mortgage Loan Officer In Connecticutx? If So, How Do You Get A Mortgage License?
Mortage Loan Officers need to be licensed by the state in which they do business, which means they must complete the pre-licensing education requirements, pass the state and national SAFE / NMLS exam with a score of 75% or better, then take eight hours of annual continuing education courses to maintain their license.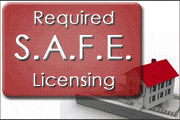 What Does A Connecticut Mortgage Broker Do?
A Connecticut mortgage broker is a licensed professional that acts as a middleman between lenders and purchasers in Connecticut cities like Bridgeport, New Haven, Stamford, Hartford, Waterbury, Norwalk, and Danbury. The broker works to find a mortgage lender with terms and rates that best fit the customer's needs, then going through the required processes and working with the mortgage underwriter to get the loan approved.
What Is The Difference Between A Mortgage Broker And A Mortgage Loan Officer?
Basically, the Mortgage Broker is the business owner and the Mortgage Loan Officer is an employee of the Mortgage Broker. In some instances, like a single-person shop, the Mortgage Broker does the work of the Loan Officer. Bottom line, the Mortgage Broker is responsible for the work output and complying with applicable laws.
What Does A Mortgage Loan Officer Do?
A Mortgage Loan Officer starts the mortgage application process by gathering from potential borrowers the information needed to start that borrower's loan review process. This includes things like W2s, 1099s, bank statements, tax returns, etc.
They are responsible for working with the borrower to complete mortgage loan application, submitting the application to underwriting, following up on any additional information needed or requested from the underwriter, then communicating the loan decision to the potential borrower.
How Do Mortgage Brokers Make Money?
Mortgage brokers make money by dealing with lenders who discount the cost of their mortgage product to allow a mortgage broker the ability to charge a fee by submission of a loan package for funding. This relationship between a mortgage broker and a lender is called wholesale lending.
About Connecticut Mortgage Licensing Requirements
The Mortgage Training Center offers both online and in-person NMLS licensing and NMLS training courses for Mortgage Brokers in Connecticut. Simply choose your preferred option from the recommended courses listed on this page, or you can choose "NMLS" and your resident state from the "Licensing" section of the search box herein.
Best-Selling Training Courses:
Instructor-Led: Webinars
Online Training Courses
Find Seminars, Webinars, And Online Training In Your Area
Mortgage Licensing Requirements For Mortgage Brokers In Connecticut
Mortgage Brokers in Connecticut are governed by SAFE Act rules for licensing and registration of mortgage loan originators. This allows easy access to a Loan Officer and Mortgage Broker's credentials and allows the public to know what kind of mortgage history these providers have.
Essentially, the SAFE Act requires that state-licensed Mortgage Loan Originators (MLOs) pass a written qualified test with a score of 75% or better, complete at least 20 hours of pre-licensing education courses, and take eight hours of annual continuing education courses.
For details on Connecticut Mortgage Broker Licensing requirements, go to:
Department of Banking
260 Constitution Plaza
Hartford, CT 06103-1800
860-240-8299
800-831-7225
For more information on this state's mortgage licensing requirements, go to https://nationwidelicensingsystem.org/slr/Pages/DynamicLicenses.aspx?StateID=CT
Disclaimer: This information provided is based on state laws and regulations, and is subject to change. While we make every effort to asure this information is current and accurate, it is not engaged in rendering legal or professional advice, and shall not be held responsible for inaccuracies contained herein.