Certificate Program For HR Generalists
Seminar: ID# 1277679
This course is available in both in-person and video conference formats.

Simply select your desired date below for more details about gaining vital employment law knowledge, critical strategies to perfect your HR skills, and earn your HR Generalist Certificate!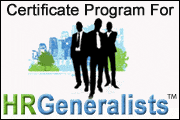 Upcoming Seminars:
takes place on three consecutive days, unless noted with an asterics (*)
Sorry, but this seminar is fully booked.
Click here
to find other venues/dates for this seminar.
Qty: 2 - Qty: 5
$20.00
$2,375.00
Qty: 6 - Qty: 10
$60.00
$2,335.00
TheMortgageTrainingCenter.com. 5755 North Point Parkway, Suite 227 | Alpharetta, GA 30022 | 770-410-1219 | support@TheMortgageTrainingCenter.com
Copyright TheMortgageTrainingCenter.com 2023 | Web Site Development by OTAU