Arkansas SAFE / Mortgage Licensing

About Arkansas Mortgage Licensing
Searching for mortgage sales training or a mortgage broker school for earning your Oregon mortgage broker license? Then you've come to the right place!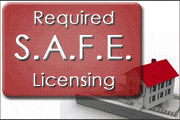 The Mortgage Training Center offers mortgage sales training products, plus Arkansas mortgage broker training courses from approved Arkansas mortgage broker schools to help you earn your Arkansas mortgage broker license or Arkansas continuing education credits.
About Arkansas Mortgage Broker Licensing Requirements
Mortgage Loan Officers need to be licensed by the state in which they do business, which means they must complete the pre-licensing education requirements, pass the state and national SAFE / NMLS exam with a score of 75% or better, then take eight hours of annual continuing education courses to maintain their license.
Recommended Training Courses:
Webinars Or Audio Conferences
Online Training Courses
Find Seminars, Webinars, And Online Training In Your Area
Arkansas Mortgage Broker Licensing Requirements
How do I find a mortgage broker school for earning an Arkansas mortgage broker license?
You start by making sure you meet the state licensing requirements with:
Arkansas Securities Department
Heritage West Building, Suite 300
201 East Markham Street
Little Rock, Arkansas 72201-1692
Telephone: (501) 324-9260
Facsimile: (501) 324-9268
Hotline: (800) 981-4429
info@securities.arkansas.gov
For more information on this state's mortgage licensing requirements, go to https://nationwidelicensingsystem.org/slr/Pages/DynamicLicenses.aspx?StateID=AR
Disclaimer: This information provided is based on state laws and regulations, and is subject to change. While we make every effort to asure this information is current and accurate, it is not engaged in rendering legal or professional advice, and shall not be held responsible for inaccuracies contained herein.