Alabama SAFE / Mortgage Licensing
Best-Selling Training Courses:
Instructor-Led: Webinars
Online Training Courses

About Alabama Mortgage Licensing
Searching for mortgage broker licensing and/or mortgage broker training courses for earning your Alabama mortgage broker license? Then you've come to the right place!
The Mortgage Training Center offers Alabama mortgage broker licensing and mortgage broker training courses from approved Alabama mortgage broker schools to help you earn your Alabama mortgage broker license or Alabama continuing education credits.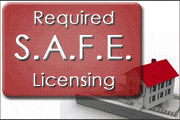 SAFE / NMLS Licensing Requirements
The SAFE Act requires that state-licensed Mortgage Loan Originators (MLOs) pass a written test with a score of 75% or better, complete at least 20 hours of pre-licensing education courses, and take eight hours of annual continuing education courses.
How To Earn Your NMLS Mortgage License In Alabama
You earn your Alabama mortgage license by:
Applying for an NMLS account and ID number
Completing your NMLS pre-licensing course requirements (see recommended NMLS licensing courses below)
Passing your SAFE licensing exam
Get started by selecting a mortgage pre-licensing course from the list below.
Recommended Alabama Mortgage Broker / SAFE / NMLS Licensing Courses
Learn at your own pace with our convenient, cost-effective, state and NMLS-approved mortgage loan officer license training courses.
The Mortgage Training Center offers both online and in-person NMLS licensing and NMLS training courses in Alabama. Simply choose your preferred option from the recommended courses listed on this page, or you can choose "NMLS" and your resident state from the "Licensing" section of the search box herein.
Best-Selling Training Courses:
Instructor-Led: Webinars
Online Training Courses
Find Seminars, Webinars, And Online Training In Your Area
Alabama Mortgage Broker Licensing Requirements
For further details on Alabama Mortgage Broker Licensing requirements, go to:

State of Alabama
State Banking Department
P.O. Box 4600
Montgomery, AL 36103-4600
(334) 242-3452
1-866-465-2279 (Toll Free)
(334) 242-3500 (FAX)



Disclaimer: This information provided is based on state laws and regulations, and is subject to change. While we make every effort to asure this information is current and accurate, it is not engaged in rendering legal or professional advice, and shall not be held responsible for inaccuracies contained herein.