New York SAFE / Mortgage Licensing


The Mortgage Training Center offers New York loan officer classes and New York mortgage sales training products and services, including in-person, self-study, and online mortgage broker training!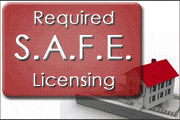 Licensing Requirements

The SAFE Act requires that state-licensed Mortgage Loan Originators (MLOs) pass a written qualified test with a score of 75% or better, complete at least 20 hours of pre-licensing education courses, and take eight hours of annual continuing education courses

For more details, or to order a SAFE / NMLS Licensing Course, go to www.TheMortgageTrainingCenter.com/NMLS_Licensing.asp or select "SAFE/NMLS Licensing" and your state from the "Licensing" section of the search box below.


Find Seminars, Webinars, And Online Training In Your Area
---
New York Mortgage Broker Licensing Requirements
---
For details on New York Mortgage Broker Licensing requirements, go to: New York State Department of Financial Services One State Street New York, NY 10004 E-mail: Mortgage.Broker@dfs.ny.gov Phone: 800-342-3736
Share on Facebook
Share on Twitter
Disclaimer: This information provided is based on state laws and regulations, and is subject to change. While we make every effort to asure this information is current and accurate, it is not engaged in rendering legal or professional advice, and shall not be held responsible for inaccuracies contained herein.
TheMortgageTrainingCenter.com. 5755 North Point Parkway, Suite 227 | Alpharetta, GA 30022 | 770-410-1219 | support@TheMortgageTrainingCenter.com
Copyright TheMortgageTrainingCenter.com 2018 | Web Site Development by OTAU