Loan Modifications Are A Growing Business. Are You Getting Your Share?
With the current economy creating challenging financial times, loan modifications are becoming more and more necessary and acceptable.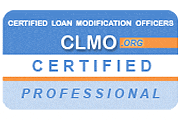 In fact, many mortgage borrowers are in properties that have lost some value, and many more are in mortgages where the payments are just too high to be met. These borrowers need a certified loan modification officer or a certified loan modification specialist to negotiate new mortgages terms on their behalf.
At the Mortgage Training Center, we have loan modification training and loan modification software that can help you learn to serve this growing niche.
Loan Modification Training
Rules and regulations are changing in this area regularly, so you'll need to act quickly to become educated and informed on how to serve these clients.
We offer a number of loan modification courses to get you trained quickly, including the "Certified Loan Modification Specialist" and the other courses listed below.
The Certified Loan Modification Specialist

How do you make a good impression, and convey to your client that you are knowledgeable in your craft? Becoming a certified loan modification officer or a certified loan modification specialist lets your client know that you've taken the extra step to get educated about loan modifications.

You will inspire trust and confidence as you help to guide them through the process of reducing their mortgage payment and perhaps even saving their home. More Details

Loan Modification 101

Our monthly, instructor-led loan modification classes get you up to speed on the what's, why's, and how's of loan modification. More Details

Loan Mod and Short Sale Marketing and Processing Secrets

You'll learn strategies to market for QUALIFIED loan modification and short sale leads and how retail mortgage brokers are evolving (or expanding) their organizations into streamline profit centers to serve American homeowners in this growing market niche. More Details
Find Loan Modification Training
To get training for working with loan modifications or loan modification classes, either select one of the recommended courses below, or select "Loan Modifications" from the "Professional Development" section of the search box below.