Selling In The Digital Age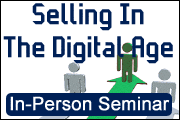 Seminar: ID# 1003466
About This Course:
What do you do first when you want to buy something? Do you call a sales person or research it on the Internet? Time has come when an internet presence is just as important as a phone number.
The world is not changing. It has changed and it will continue to change. Selling in the Digital Age will help your sales people maximize the power of the Internet, stay ahead of the curve and ahead of your competition.
Learning Objectives
This hands-on seminar will teach you how to efficiently use the resources available on the Internet to develop new sales opportunities with prospects and build stronger relationships with existing customers.
In two full days we will cover:
Social Networks - How they work and how they help you sell
Search Engines - How to get the most out of them
Twitter - Stay in touch, 140 characters at a time
Directories - Find the right people and information, fast
E-mail Campaigns - How e-mail can help your customers buy
Blogs - Become known as an industry expert
Your Personal Brand - Build a unique online reputation
In short, we are going to teach you to locate and develop pre-qualified prospects into customers using the vast resources of the Internet, interact with and retain current customers, and build and foster ongoing customer relationships.
Agenda
The class time is divided as follows:
Theory 7.75 hours
Workshops 6.5 hours
Personal Feedback unlimited
First Day
8:00 - 8:45 Introduction and Assessment
8:45 - 9:15 Methods for maximizing the power of the Internet
9:15 - 11:15 Search Engines - Find what you need to succeed
11:15 - 12:15 Directories What's available and how to use it
12:15 - 1:30 Lunch
1:30 - 3:30 Using social networks to find and develop prospects
3:30 - 4:00 Additional resources and trends
4:00 - Wrapping up - Individual training and workshops
Second Day
8:00 - 9:00 Review
9:00 - 11:00 Blogging - How can it help you sell? Should you do it?
11:00 - 12:30 Your personal brand. How do your customers see you?
12:30 - 1:45 Lunch
1:45 - 2:30 Staying in touch with Twitter—It's true strength
2:30 - 3:15 Youtube can help you sell
3:15 - 3:45 Staying in touch with e-mail
3:45 - 4:30 Etiquette on the Net—Some Do's and Don'ts
4:30 - 5:00 Pulling it all together with a sales oriented home page
5:00 - 5:15 Course Summary, Trends and How To Stay Informed
Times and Dates
This two-day seminar is held on the dates and times posted herein.
Order:
Selling In The Digital Age
Price: $2,590.00
To order this product, find a location and date that is convenient for you under the "
Cities & Dates
" tab.