Searching for mortgage sales training or a mortgage broker school for earning your Oregon mortgage broker license? Then you've come to the right place!
The Mortgage Training Center offers mortgage sales training products, plus Oregon mortgage broker training courses from approved Oregon mortgage broker schools to help you earn your Oregon mortgage broker license or Oregon continuing education credits.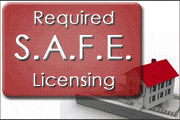 Licensing Requirements
The SAFE Act requires that state-licensed Mortgage Loan Originators (MLOs) pass a written qualified test with a score of 75% or better, complete at least 20 hours of pre-licensing education courses, and take eight hours of annual continuing education courses
For more details, or to order a SAFE / NMLS Licensing Course, go to www.TheMortgageTrainingCenter.com/NMLS_Licensing.asp or select "SAFE/NMLS Licensing" and your state from the "Licensing" section of the search box below.
Oregon Mortgage Broker Licensing Requirements
For further details on Oregon Mortgage Broker Licensing requirements, go to:
Department of Consumer & Business Services
Division of Finance and Corporate Securities
350 Winter St. NE, Rm. 410
Salem, OR 97301-3881
Phone: (503) 378-4140 or (503) 378-4387
FAX: (503) 947-7862