Mortgage Broker License Requirements: SAFE / NMLS Licensing Requirements
The SAFE Act of 2008 established requirements for the licensing and registration of all Mortgage Loan Originators except those individuals who work for an insured depository or its owned or controlled subsidiary.
Essentially, Loan Officers need to be licensed by the state, which means you must complete the education requirements, then pass the state and national SAFE / NMLS exams.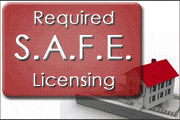 For specific questions re your state, go to our Mortgage Lender Licensing Chart at the bottom of this page.
Mortgage Broker Licensing Matrix
To contact the mortgage broker license requirement officials for your state, simply use our mortgage broker licensing matrix below. With this mortgage broker licensing matrix, you can just click on your state to be taken to the page for more information about obtaining your mortgage broker license for your particular state.
To find the right mortgage broker licensing course for you, simply select your resident state below:
Conversely, you may search under "Licensing" in the search box below for your desired mortgage broker licensing course, then press 'Go!'
With our mortgage broker licensing matrix, you'll be on your way to work in no time at all!


---

To find out about mortgage broker license requirements, either choose your state in the mortgage broker licensing matrix or select "Mortgage Broker" and your state from the "Licensing" section of the search box below.